Quinta das Condessas
An entry level wine from the Douro. It's what you expect from reds from that region, being blended from those grapes that you get in a port. Really full bodied with strong dark fruit notes. Nice and punchy (warning; this is 15% volume). Smells and tastes great for a wine of this price.
Drink it with?
This has a nice tannic finish and would be a good match with red meats. If you're having roast beef over the season, or even better a hearty beef or game casserole, then this is for you. It's also plenty powerful enough to stand up to a strong cheese.
I had this with venison and juniper sausages from my Field & Flower meat box (they have some good meat, check them out), with a wholegrain mustard mash and a delicious gravy made from the wine (recipe below). The wine worked really well with the excellent dense venison sausages.
Value?
Under £7. This is an automatic pick for your Xmas stock.
Recipe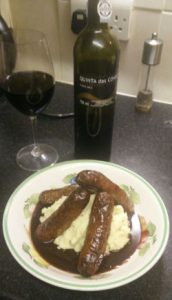 You all know how to cook a sausage and make mashed potato (unless you're using a big knob of butter and some heated milk or double cream you're doing it wrong!). Add a heaped teaspoon of wholegrain mustard for every 2-3 spuds.
For my gravy, I thinly sliced a medium onion, cooked it over a medium heat in oil and a tiny bit of butter for 10 or so minutes until browned. Add a teaspoon of flour and mix in and cook the flour out for a minute or two. Then in with about 75 ml of the Condessas. Reduce that over a high heat. I added a dash of ruby port and then reduced that down (add a pinch of sugar and 100 ml of the wine if not using the port). Then about 250 ml of beef stock. Reduce down for a few minutes more. I strained it through a sieve to take the onions out and leave a delicious velvety gravy. If you make it in advance it'll thicken up, but will go back to a lovely consistency once gently reheated. Let it down with some hot water if required.