Day 22
Quinta de Lemos Alfrocheiro
With all this Lemos you are spoiling me!
Another dark, good bodied wine with aromas and flavours of blackberries and other dark fruit and spice notes. Hand-picked grapes again matured in French oak for 18 months this has a lovely mouthfeel, balanced tannins, and a long lingering finish.
Drink it with?
A match with most red meats, but I've recently enjoyed a bottle of this with roast lamb.
Value?
You know what I think of the Lemos reds. A single varietal from these guys at under £15 is always going to be a winner.
Day 23
Quinta de Lemos Dona Georgina
This is a terrific wine. They take some of the best of the Touriga Nacional and Tinta Roriz grapes at each harvest and make this beautiful blend which is named after their mother. The blend is then aged for 15 months in French Oak.
A deep colour and heady aroma with massive fruit notes. A smooth mouthful of berry and plum, with delicious spice background notes and a hint of coffee. Very complex with a well balanced tannic finish. Make sure to decant this for a few hours before drinking to let these flavours open up.
Another wine from Qunita de Lemos that has won a fistful of prestigious awards.
Drink it with?
It's so well balanced that its beautiful drinking by itself. But the power and complexity of this wine means this matches well with lamb, beef or cheeses.
Value?
This is at the more expensive range of the wines on the site, but there's a reason for that. There's a lot of skill and time gone into making this wine. It compares very well to Burgundies and Barollos at a similar or higher price so even at £25 quid it's still value.
Day 24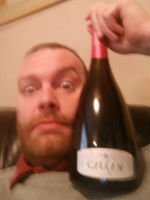 Quinta da Calçada Couvée de Choix Sparkling Rosé
And now the end is near, and so I face my final calendar entry.
I really hope that those of you who've been following the blog and have been kind enough to comment, or share on social media have enjoyed some of what you've read. More importantly I really hope that I've steered you towards some excellent value and delicious wines. There's some really good stuff on this site, and I hope I've been able help demystify some of the Portuguese grape varieties that you may not have been familiar with before. If you take anything from this calendar, I hope that it will be to try some new wines and enjoy the experience.
So onto the Couvée de Choix. Its another cracker from Quinta da Calcada. A light pink with small bubbles, very subtle fruit tones and a yeasty note. Good mineral balance and a nice mouth feel. Very easy drinking.
Drink it with?
As a straight up celebratory sparkling, or with some smoked salmon canapes.
Value?
This is priced at a similar level to a moderate champagne, so not bad at all.
And that's it. Merry Christmas and all the best for the new year!
Buy Quinta de Lemos Alfrocheiro
Buy Quinta de Lemos Dona Georgina