With a man down, Antony, Simon and Pat started by making this more of a "family day".
Wednesday
We decided to start by visiting the Wine Unearthed section of the fair, based in the upper gallery above the grand hall. This was where the small, often family run estates, who have no current UK representation were showing their wares. Exactly the kind of producers we like to team up with to bring you great value, unique wines that you can't get anywhere else. You'll be glad to know we found some excellent quality producers and wines.
First up was Pedro showing the Ze da Leonor. Leonor was his grandfather and Ze is apparently an affectionate popular Portuguese nickname. They were only showing a reserva white, a rose and a red, all produced in small quantities and all of which they were very proud of. The white was initially sharp but smoothed out to a pleasant mouth feel. The rose was perfumed but with a pleasant, grown up dry edge and a surprising complexity for that style of wine. The red was a blend with 60% Touriga Nacional, with the remainder being a mix of Cabernet, Syrah and Alicante and came out well balanced with a lovely hint of berry and spice. 3 wines from Ze da Leonor and all of them worthy of praise. We'd had a good start to the day.
But the Wine Unearthed section had more treats in store for us. We had a very decent Touriga Nacional and Touriga Franca blend from a producer called Muxagat, and some classy efforts from a winery called Pormenor.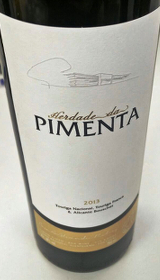 One of the most impressive producers was Herdade da Pimenta (loosely translates as Farm of Pepper). A terrific, refreshing entry level white, blended from Antao Vaz, Arinto and Encruzado started us off. This was followed by a decent rose blended from Touriga Nacional, Aragonez and Trincadeira. Their entry level red, a four grape blend mainly made up of Aragonez and Cabernet Sauvignon was a big, fruity mouthful. These were impressive for entry level. Then we had a blend of Touriga Nacional, Touriga Franca and Alicante Bouschet, complex and smooth with deep flavours and hints of violet which we loved. Finally we tasted their 2013 Grande Escolha which was a very serious wine with huge flavour yet maintaining a smoothness and a long finish. Five wines from Pimenta, and all five of which they can be very proud.
As a growing retailer, it is really exciting to meet and hopefully work with these small producers to bring you wines that you won't ever be able to get in a supermarket. We're going to be trying hard to get some of these fabulous wines on the website for you to buy.
Remember that delicious dessert wine from the Tejo at the end of Tuesday? We had to go back and try all the rest of the wines from Alorna. They had an excellent range of whites, and we fell hard for their deliciously refreshing Alvahrinho and a traditional style Sauvignon Blanc with vegetal aromas and hints of gooseberry and tropical fruit. Lovers of new world Sauvignon Blanc will enjoy the latter. But we were blown away again by the dessert wine, the 5 year old Abafado. Such a delicious wine. We will try and stock this and we're sure you'll love it.
Of course once we got a taste for fortified wine, nothing else would do, so we headed off to find some Port. The good people of the Quinta da Boeira did not disappoint us with their very well presented range of aged Tawny Port. The wine was magnificently presented and I am afraid our photographer failed to do it justice, possibly because of how much he was enjoying the Port!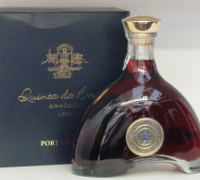 All in all a really good day and some excellent wines. Could it be that there was only one more day to go? Where had the time gone?
Thursday
We started off back in the Grand Hall with Casa Santos Lima, a producer whose wines we've previously tried. They really are a powerhouse in the world of Portuguese wine with production taking place in 5 different regions. We were particularly looking forward to trying something from the Algarve since we have a stated aim of trying to represent every wine making region of Portugal on the website. It must have been good, because it had already run out by the time we got there! Undeterred, we got to work on the rest of their range. Joya is a white wine from the Lisboa region which was really light and easy drinking. At only 9.5% alcohol we think that fans of our Vino Verde will love this wine. In complete contrast, there was nothing light about the reds we tried; a powerful Touriz 2012 and a fruity Touriga Nacional 2011. We finished off with their Reserva and Opaco, which we all agreed were serious, heavyweight, wines.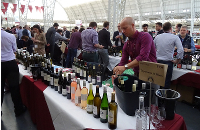 The Esoterica section of the fair has carved out a niche over the last couple of years. Exhibitors tend to be smaller importers who don't want to take on (or would struggle to fill) the larger more expensive stands in the main hall. Instead, they fill a table each and offer a limited selection of their portfolio. Having such a diverse mix of wines and producers packed into a small space creates great energy. It was a real change of pace for us and basically the quick-fire round of the event!
Terra d'Alter had a few good reds from the Alentejo, including an Alfrocheiro which was very pleasing and a Trincadeira blend that had excellent fruit and good balance. The Reserva blend was the best of the bunch. Another big hitter at a very reasonable price.
Organic certification is relatively hard to get in Portugal, mainly because the farms are so small and it is hard to control what your neighbours might be up to. So it was nice to try a couple of Organic wines from the Alentejo. The Zebro red and the Herdade dos Lagos white were both very good and we are looking forward to seeing what else this vineyard produces.
Then it was time for some Port. Those of you who bought our Quinta do Sagrado tawny and ruby Port at Christmas will be pleased to know that they have a lot more to offer. For the summertime, we are convinced the perfect drink is Pink Port! Deliciously fruity and not too sweet, it's good with lemonade but even better with sparkling wine. If that is a little to adventurous for you, their 2011 Vintage Port is an absolute classic in the making. 2011 was a banner year for Port and this Sagrado is exceptional. We are hoping to get hold of a few bottles, but don't be surprised if they don't make it onto the website!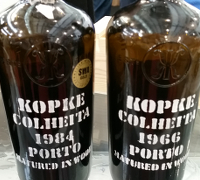 The last stop was the Kopke stand for some Colheitas that were older than us. Aged tawny Port is gaining in popularity all the time and most of the big Port houses now regularly release a Colheita, which is a tawny style port with grapes from the same vintage. The 1966 was absolutely delightful, but I am not looking forward to finding out the price!
And then it was over for another year. The three days had flown by, but we felt like we'd got through a lot of work. Now onto negotiating with the suppliers and seeing how the wines that we liked fit in with the range we already offer and what we think you, our customers, will enjoy. Hopefully in a few months we'll be able to share the fruits of our labours with you. If you follow us on Facebook, Twitter or Instagram you will definitely find out when the new wines are arriving. In the meantime we are hoping to have some pop up events in London during the summer and will be at Myddleton Road street market on June 19th and we will have plenty of bottles open.
Saude!