For those involved in the wine business, the London Wine Fair is an event not to be missed. This year the event was held in the Kensington Olympia exhibition centre; an incredible venue spanning 4 acres, the perfect choice for wine producers from across the globe to gather and showcase their products.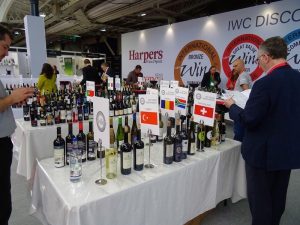 With a fantastic array of over 10,000 wines to taste, seminars discussing the state of the UK wine industry and key speakers presenting their specialist knowledge to a captivated audience of wine lovers and professionals, the London Wine Fair is an unforgettable event to attend. It's hard to imagine a better environment for those wanting to taste, compare and understand the different wines produced throughout the world. It was a great year for Portuguese wine at this year's London Wine Fair. We put ourselves on a fairly punishing schedule and still only tasted 150 different wines from Portugal over the 3 days of the event. We tried to focus on wines from the regions that we do not currently represent, like
Tejo
, Beira and
Bairrada
and we were not disappointed with what we found! We're really excited about some of the wines that we discovered; not only do they allow us to better represent the different wine regions of Portugal but regions aside – we found wines that just tasted incredible! As ever along with outstanding wines we were looking for wines that offer the best value for money and as the coming months progress we will be including our finds on the Drink Portuguese Wine website. We know that you will be as amazed as we were by both the prices and the quality of the wines that we discovered. We will be introducing beautiful smooth, full-bodied red wines from the Tejo region, crisp sparkling wine from the Bairrada region and wonderfully elegant wines from the Dão. Rest assured, there are good times ahead!