Taberna do Mercado is the brainchild of superstar chef Nuno Mendes and his long time collaborator, head chef Antonio Galapita. It offers casual dining in Old Spitalfields Market, with the emphasis on traditional Portuguese ingredients and flavours. What better place to introduce the wine of Quinta de Lemos to some new (and not so new) friends?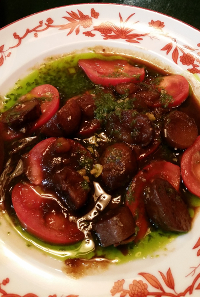 The food really was exceptional, wave after wave of Portuguese cheese, cured meats and small plates delighted us all. No surprise that all my favourite dishes were pig based, with the 80 day aged pork and the Copita (air dried, acorn fed, black pig loin) being particular highlights.
Quinta de Lemos are rightfully proud of the grapes they grow, some of which are indigenous to the Dão region and we were keen to show them to a wider audience. Touriga Nacional is a familiar grape to lovers of wine from Portugal, but not everybody has tried, or even heard of Jaen and Encruzado. Of course they were a big hit with the white Encruzado pairing exceptionally well with the Copita. The blends also worked well and are exceptional value at the moment. The Dona Santana punches well above its weight and was a great match for the beef prego.
If you would like to buy any of the wine we showcased at Taberna do Mercado, you can click on the links below and have them delivered to your door. You can also head down to Old Spitalfields Market and try Dona Santana 2009 and Quinta de Lemos Touriga Nacional 2009 at the restaurant.
Dona Louise 2005
Dona Santana 2009
Dona Paulette 2012 (Encruzado)
Jaen 2007
Touriga Nacional 2009
Big thanks to everybody who helped us to make this event a reality, especially the staff at Taberna do Mercado, who were amazing.